Samsung Galaxy A13 5G
Samsung Galaxy A13 5G
{{migration-desc}}
{{smartPay-price}}
price is #priceDollar dollar and #priceCent cents
smart pay logo
Samsung Galaxy A13 5G
Samsung Galaxy A13 5G
{{migration-desc}}
Approved For {{smartPay-price}}/mo #term Monthly payments
price is #priceDollar dollar and #priceCent cents
Was priced at #listPriceDollar dollars and #listPriceCent cents. Now priced at #priceDollar dollars and #priceCent cents
Retail price
This item is for pre-order only.
Ships by release date
Introducing the galaxy A13 5G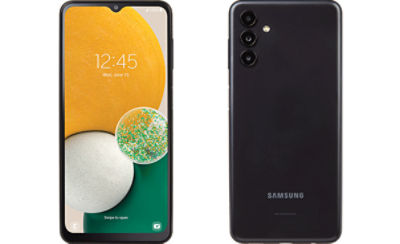 We've gone and done it. Galaxy A13 5G packs our core features into one of the most affordable 5G phones on the market. What does that mean for you? Quick downloading and streaming virtually lag-free on an expansive and smooth display. Incredible video capturing and photos with a high-res triple camera, and enhanced storage that has room for all of your favorite memories. Plus, awesome connectivity with a long-lasting battery that charges up fast.
In the next step, you will have the option to bundle your Phone with one of our no-contract plans.
A Service Plan card is required for activation. Plans are not returnable or refundable. Service Plan card is required for activation. Text SAS136DL to 611611 for mobile tutorials.
6.47 x 3.01 x 0.34 in | 164.5 x 76.5 x 8.8 mm

Front Camera: 5MP (F2.0) | Main Camera: 50MP (F1.8) Main camera | 2MP (F2.4) Macro camera | 2MP (F2.4) Depth camera

Included Battery - 5000mAh (15W Fast Charging)

Memory 64GB Storage | 4GB RAM (Up to 1TB on microSD card)
What's in the Box
Includes Galaxy A13 Phone
Charger
Battery
Services Guide and Quick Start Guide.
More features
A fast and reliable processor powers a virtually lag-free 5G experience.
Galaxy A Series helps protect your data with multilayered security and the ability to privately share your files on your terms.
With a high-res triple-lens camera system, Galaxy A13 5G gives you one of our sought-after cameras at a fraction of the price.
Whatever your day has in store, a long-lasting, fast-charging battery makes sure you're ready for it.
Stream and play back in a crisp, edge-to-edge view.