Samsung Galaxy A03s
Samsung Galaxy A03s
{{migration-desc}}
{{smartPay-price}}
price is #priceDollar dollar and #priceCent cents
smart pay logo
Samsung Galaxy A03s
Samsung Galaxy A03s
{{migration-desc}}
Approved For {{smartPay-price}}/mo #term Monthly payments
price is #priceDollar dollar and #priceCent cents
Was priced at #listPriceDollar dollars and #listPriceCent cents. Now priced at #priceDollar dollars and #priceCent cents
Retail price
This item is for pre-order only.
Ships by release date
Introducing the galaxy A03s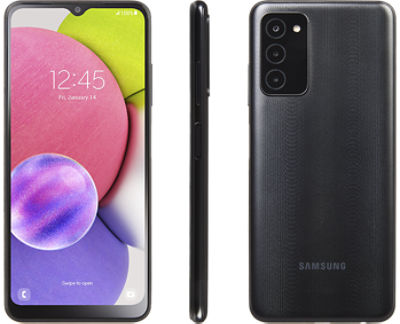 If you value simplicity, Galaxy A03s is the phone for you. That means you get the awesome essentials, like a long-lasting battery, high-definition display and multi-lens camera, all in one of our most affordable phones.


In the next step, you will have the option to bundle your Phone with one of our no-contract plans.
A Service Plan card is required for activation. Plans are not returnable or refundable. Service Plan card is required for activation. Text SAS134DL to 611611 for mobile tutorials.
2.67 x 5.94 x 0.36 in | 67.8 x 150.8 x 9.1 mm

6.5'' HD+ LCD, 720 x 1600

5MP Front Camera | Main Camera 13MP

Included Battery - 5000 mAh Lithium-ion

Memory 3GB RAM | 32GB Storage
What's in the Box
Includes Galaxy A03s Phone
Charger
Battery
Services Guide and Quick Start Guide.
More features
Your cherished moments are essential, so keep them with expandable memory.
We've crunched some numbers and discovered that three camera lenses means three times the fun.
A reliable, long-lasting battery helps you keep going at your pace.
Bold and brilliant with a crisp infinity display that's perfect for keeping in touch or escaping into your entertainment.