TVNKN1374DC_P#TVNKN1374DCP
Nokia G300 5G
Nokia G300 5G
{{migration-desc}}
{{smartPay-price}}
#priceDollar dollars and #priceCent cents Retail price
smart pay logo
Nokia G300 5G
Nokia G300 5G
{{migration-desc}}
Approved For {{smartPay-price}}/mo #term Monthly payments
#priceDollar dollars and #priceCent cents Retail price
Was priced at #listPriceDollar dollars and #listPriceCent cents. Now priced at #priceDollar dollars and #priceCent cents Retail price
Retail price
This item is for pre-order only.
Ships by release date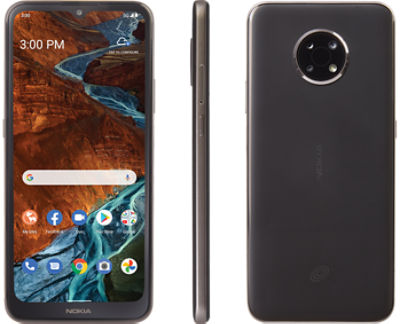 Nokia has been connecting millions of people worldwide for over three decades. That legacy continues today with the Nokia G300 - everything you need in a smartphone from the brand consumers love and trust.

In the next step, you will have the option to bundle your Phone with one of our no-contract plans.
A Service Plan is Required for Activation. Plans are not returnable or refundable.
6.6 x 3.08 x 0.35 in | 169.4 x 78.4 x 9.1 mm

Rear camera: 16MP AF f/1.8 + 5MP UW, f/2.2 + 2MP | Front-facing camera: 8MP

Battery Lithium-ion 5000 mAh

RAM: 4GB | ROM 64 GB; Micro-SD card slot support up to 1TB
What's in the Box
Includes Nokia G300 5G device
Charger
USB Charger and Quick Start Guide.
More features
The Nokia G300 gives you all the essential smartphone features you need, and more, all at an affordable price. We listened and learned what features you love most, and we put them all in this device, just for you. Enjoy.
Sometimes, life can throw a lot at you, and you need a phone that's lifeproof. Built with an excessive attention to detail and tested for relentless durability, the Nokia G300 is built to last, and designed to withstand whatever life, or you, can dish out.
A 16MP triple-lens camera with width and depth lenses gives you the clarity and precision you need. Capture those postworthy moments in their greatest detail and share them with friends and family. Exceptional low light exposure and image stabilization allows you to take your best shot, in any environment.
Up to 2 days 1, to be exact. Watch videos, play games, endlessly scroll through your social media. The Nokia G300 can take it. With a large battery and quick charging capability, you can stream, play, and stay connected all day long, and then some.
See everything in crystal clear, high definition on the 6.52'' display with edge-to-edge coverage. Pictures pop, videos stand out, and games draw you right into the action. Adaptive brightness lets you see the perfect picture in any setting, so whether you're a night owl or a enjoying a day outside, you'll get the best picture, period.
 WARNING: Cancer and Reproductive Harm - Proposition 65   site, you will be directed to a 3rd party site open in a new tab