TVMTXT2163DC_P#TVMTXT2163DCP
Moto g Pure
Moto g Pure
{{migration-desc}}
{{smartPay-price}}
#priceDollar dollars and #priceCent cents Retail price
smart pay logo
Moto g Pure
Moto g Pure
{{migration-desc}}
Approved For {{smartPay-price}}/mo #term Monthly payments
#priceDollar dollars and #priceCent cents Retail price
Was priced at #listPriceDollar dollars and #listPriceCent cents. Now priced at #priceDollar dollars and #priceCent cents Retail price
Retail price
This item is for pre-order only.
Ships by release date
Ultra-wide display. Two-day battery.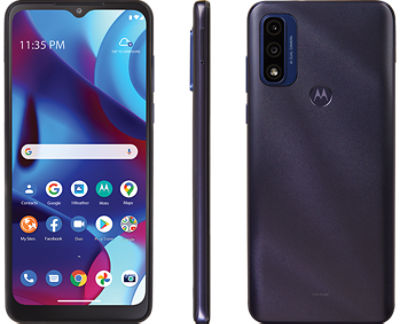 Meet moto g pure and get more of what you love. An ultra-wide view of your favorite movies, games, and video chats on a 6.5'' Max Vision HD+ display. Plus, up to two days of battery life to keep the fun going all weekend long. And there's more. Dual camera system. Octa-core processor. Water-repellent design. With moto g pure, more comes standard.



In the next step, you will have the option to bundle your Phone with one of our no-contract plans.
A Service Plan is Required for Activation. Plans are not returnable or refundable. Text MTXT2163DL to 611611 for mobile tutorials.
6.59 x 2.98 x 0.34 in | 167.3 x 75.6 x 8.6 mm

6.5'' Max Vision HD+ display

MAIN CAMARA TRASERA - 13MP | CAMARA 2 - 2MP | FRONT CAMARA - 5MP

Battery Lithium-ion 4000 mAh Lithium-ion included

3 GB RAM/32GB internal storage
What's in the Box
Includes 10W Charger
USB Type-C cable
guides
SIM tool
More features
Securely unlock your phone with just the touch of your finger.
Feel your phone respond instantly to every touch, tap, and swipe using an octa-core processor with HyperEngine.
Get professional-looking portraits with a blur effect using the depth sensor. The 13MP camera with phase detection autofocus (PDAF) captures your subject in the blink of an eye
4000mAh battery keeps you working and playing for up to 2 days1 without recharging
Stunning ultra-wide 6.5'' Max Vision HD+ display. 20:9 aspect ratio with an 81% screen-to-body ratio
 WARNING: Cancer and Reproductive Harm - Proposition 65 site, you will be directed to a 3rd party site open in a new tab