TVMTXT2165DC_P#TVMTXT2165DCP
Moto g Power
Moto g Power
{{migration-desc}}
{{smartPay-price}}
price is #priceDollar dollar and #priceCent cents
smart pay logo
Moto g Power
Moto g Power
{{migration-desc}}
Approved For {{smartPay-price}}/mo #term Monthly payments
price is #priceDollar dollar and #priceCent cents
Was priced at #listPriceDollar dollars and #listPriceCent cents. Now priced at #priceDollar dollars and #priceCent cents
Retail price
This item is for pre-order only.
Ships by release date
Refresh your perspective + expand your view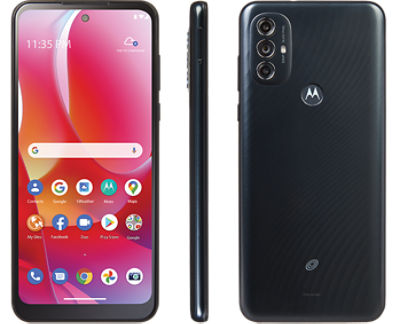 With a 90Hz refresh rate, it's smooth and seamless with far less lag. The 6.5'' Max Vision HD+ display gives you maximum viewing thanks to a 20:9 aspect ratio.


In the next step, you will have the option to bundle your Phone with one of our no-contract plans.
A Service Plan is Required for Activation. Plans are not returnable or refundable. Text MTXT2165DL to 611611 for mobile tutorials.
6.59 x 2.98 x 0.34 in | 167.3 x 75.6 x 8.6 mm

6.5'' Max Vision HD+ display Touch Screen

13MP/2MP Rear Cameras | 8MP Front Camera

Battery Lithium-ion 5000 mAh Lithium-ion

4 GB RAM | 64GB internal storage
What's in the Box
Includes Moto g Power device
Battery
Services Guide.
More features
Get a boost in speed and efficiency from an octa-core processor with HyperEngine technology
For photos, movies, songs, apps, and games. And add up to 512GB more using a microSD card.
Take professional-looking portraits and close-up photos, and tell your story in more creative ways
With a massive 5000mAh battery, you can go up to three days on a single charge.
Bring games, movies, and video chats to life on a fast and fluid, ultra-wide screen